Anthony Weiner: A Lesson for all Men?
September 15, 2016

(This article is being re-worked for reposting)
updated from March 12, 2008
http://nypost.com/2016/09/21/anthony-weiner-accused-of-sexting-relationship-with-15-year-old-girl/?utm_campaign=SocialFlow&utm_source=NYPTwitter&utm_medium=SocialFlow&sr_share=twitter
2011
https://www.youtube.com/watch?v=wErSDO00hNk
http://usdefensewatch.com/2016/09/huma-abedin-to-be-clintons-secretary-of-state-say-wiki-leaked-emails/
http://www.dailymail.co.uk/news/article-3790824/Anthony-Weiner-carried-months-long-online-sexual-relationship-troubled-15-year-old-girl-telling-hard-asking-dress-school-girl-outfits-pressing-engage-rape-fantasies.html
by Henry Makow Ph.D.Anthony Weiner was a rising political star who destroyed
his career because of an addiction too sexting. He had to resign from Congress in 2011 and lost the New York Mayoralty race in 2013 because of sexting inappropriate pics and messages to young women who were not his wife. His wife since 2010 by the way was Huma Abedin, Hillary's chief aide rumoured to e the designate Secretary of State in the unlikely event of a Clinton presidency. She divorced him two weeks ago when he had yet another setback, this time including his three year old son Jordan in a picture.
downfall contains an almost Biblical lesson for all men: Don't be controlled by your dick. It will ruin your life.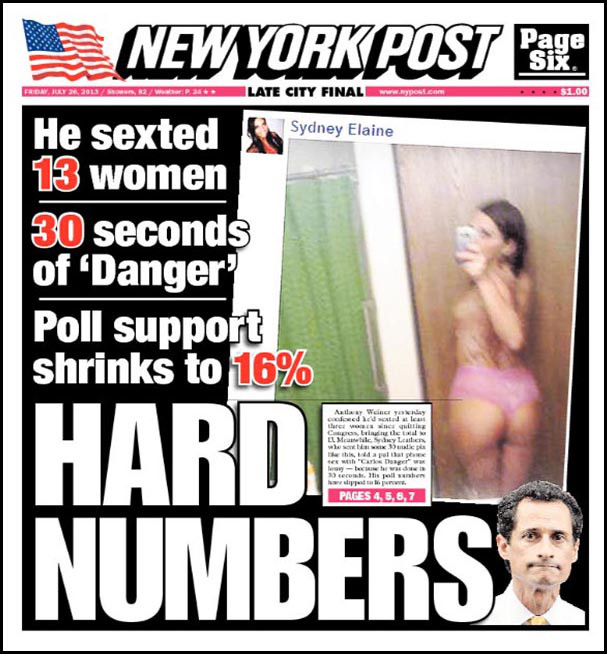 clinton comp
arranged marriage
crime? steal? sex with minors? betrayed marriage vows- child
crawled
in- appeared in- liability-
ELIOT SPITZER
Sex is a powerful force. Either we control it or it (and woman) controls us. Like Samson, Weiner forfeited his power for sex. The bankers used it to control Weiner; they also use it to control us.

Men are fighting a powerful meme created by the banker-owned media. Although sexual attraction is totally based on our natural instinct to propagate, the media divorces sex from procreation and turns it into an entertainment and commodity.

It proclaims anonymous sex is an end in itself, meaningful and liberating, and in Spitzer's case, worth $2000 an hour.
This elevates the nubile female-prostitute to the level of goddess. Who else gets paid that much?
Sex is an appetite like food. If you don't get food, you will think of nothing else. It's the same with sex. The answer? Men have got to marry women who like sex and "forgeta 'bout it."
It's time we deconstructed anonymous sex. Somehow the females have got the upper hand. Much like the diamond cartel ,they have hoodwinked males into thinking that a commodity as commonplace and plentiful as p---y is rare and precious. It's not. In Andy Warhol's words, "Sex is the biggest nothing in the world."
I'll never understand why a man would ever pay a woman for sexual gratification. Why shouldn't she pay him? Sex is just as necessary for her. What fools we men are.
I wouldn't pay ten cents for anonymous sex with anyone. Not this
New Jersey nose job.
Not anyone. And you couldn't pay me $4000 to service some stranger. (Not that they'd ask.)
The "prostitution ring"
charged Spitzer between one and three thousand an hour! It charged
$10,000 to $30,000 a night and would consider selling off their chattel for a large lump sum.
Eliot, didn't anyone tell you that all cats are grey in the dark?
The excitement for a man is a woman's response to him. How responsive can a woman be to a stranger? How satisfying can it be when the meter is running? In casual sex, both parties are miming what they think should be happening, rather than admitting that the experience is empty and degrading.
IN PRAISE OF MASTURBATION?
problem apps, brainwashing, young groomed, porn, highly sexualized

Masturbating is a far better solution
for single men
than anonymous sex. Do I have to list the advantages? You have your flawless woman and fantasy. Afterward, she's gone instantly. And there's no chance of pregnancy or STD. Oh yeah. It's FREE. And often
it's better.
Let's deconstruct the fertile female while we're at it. Having lost her ability to love men and children, young women today are in danger of losing their purpose and identity. They have become scrawny men, with narrow shoulders, vestiges of a couples of feed bags on their chests, and an unsightly jungle below.
Young women are pretty much physically identical. As one wag said, "Put a clock in it." Yet despite the tedious repetitive nature of the product, they have been selling it to male yokels like Florida swamp land.
The only thing that truly differentiates women is beauty, grace, talent, character and personality. Yet most young women today seem content to compete strictly on the basis of sex appeal.
I love feminine women, the kind that marry and sacrifice for husband and family. The kind that understand that
femininity is the opposite of masculinity.
We live in a culture that promotes arrested development by inflating the status of women and teaching men to pander to them,with sex as reward like a dog treat. Of course women tire of this, and men end up neutered and alone.
Eliot Spitzer spent too much time overachieving and didn't develop emotionally. Part of that requires we
get sex out of our system.
Realize how mundane it is. That there is no "there" there. With all the sex available, will men finally learn that casual sex is a bore?
Men must also realize that no woman can give them what they really seek--- themselves. You get that by serving God (i.e. a spiritual ideal.)
Romantic love also is a crock. Women are just companions on the journey. Real love is based on meeting mutual needs over a long period of time. It is based on sticking with someone when they're down, like Mrs. Spitzer did.
In closing, let's learn from Eliot Spitzer's folly. Sex is used to control men. When we control our sex drive, we are free to serve a higher master.
------------------
This seems a good time to plug my friend Julian Lee's website
www.celibacy.info
dedicated to teaching men the benefits of abstinence. My interview with Julian will be rebroadcast this Sunday on Republic Broadcasting at 10 pm CT
https://www.youtube.com/watch?v=wErSDO00hNk Huma Divorces Weiner

Anthony Weiner spent months sexting with an underage girl he tried to lure into "rape fantasies," it was revealed Wednesday -- and the ex-pol's new low could send him to the slammer.
The 15-year-old high school student went public with a trove of lurid come-ons she got from Weiner, who exchanged his "Carlos Danger" persona for the alias "T Dog" to send her kinky texts and shirtless selfies over a cell-phone messenger app.
Weiner repeatedly told the unidentified teen how "hard" and horny he was, at one point boasting that after sex with him she would, "limp for a week," the Daily Mail reported.
Weiner -- whose serial sexting cost him his seat in Congress and a comeback bid for mayor -- also shared pornographic videos with her, asked her to get naked and masturbate for him over Skype, and even told her about "rape fantasies" that grossed her out.
"It would just be him showing up at my house when my dad was out of town," the girl told the Mail.
http://nypost.com/2016/09/21/cuomo-weiner-could-face-jail-time-for-sexting-with-teen/