The Cry of a Young Pakistani
November 5, 2011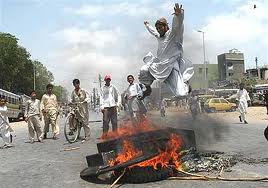 Muslim
terrorists operate under the guise of Islam.
They are not religious, but are
Satanic psychopaths and a
branch of the world wide Illuminati.




by a Young Pakistani
(henrymakow.com) In Karachi, Pakistan's biggest city,
Islamic terrorists are building bombs and killing people with impunity.
They wantonly kidnap innocent people for ransom and use the money to buy arms. Most often their kidnap victims are tortured and killed, their bodies are tossed like garbage out onto roadways.
The Pakistani government does nothing to stop the terrorists (nor the Taliban) from seeking refuge within Pakistan. These terrorists operate under the guise of Islam. They are not religious, but are Satanic psychopaths and a branch of the world wide Illuminati.
Our government is not in control of our own nation. It is doing nothing to repair the flood damage and electrical grid. Its heath care system is a bad joke. It is easier to abandon public buses than to repair them because NGOs will donate new buses.
These same Satanic psychopaths would love create a nuclear war with India. The City of London has already tried several times to instigate such a war.
Any Pakistani leader that stands up to them is quickly assassinated if lucky. Others suffer the fate of long painful torture before being beheaded.
Nobody, not even foreigners are safe in Pakistan from the kidnappings and the Pakistani government does nothing out of fear.
President Asif Ali Zardary does not listen to his people. We view him as a dictator. He does not care that we are hungry, jobless, or about the torture and deaths done by terrorists.
He is a corrupt man and has failed miserably to bring justice and lift the ensign of peace. As long as he is president there will be no peace as he is interested in the proceeds of Afghan opium. This is why he secretly supports the Taliban.
The Pakistani government is always playing dramas in front of the international media seeking money from charities and foreign governments to help Pakistan's affected areas and needy people. But little or none of this money goes to the needy. It ends up in the pockets of corrupt politicians and government workers.
Our people protest and shout for peace, justice and for the basic needs of life.
Honesty is necessary for the success of democracy and justice, but there is little among our leaders. The corruption is so bad that our economy is at a standstill.
I suggest that all N.G.Os, charities nor governments donate not a single dollar to Pakistan. Do not trust the Pakistani leaders.
RELIGIOUS PERSECUTION
Christians and Hindus suffer outrages and crimes that go unpunished in this Muslim majority nation.
"Anna" a 12-year-old Christian girl, lured by deception by a friend, was kidnapped, beaten and raped repeatedly for eight months by a gang of Islamic militants. Devastated and traumatized she was forced to sign documents that attest to her marriage and conversion to Islam.
Months later she managed to escape and return to her family. The magistrate of the area had registered a complaint against the Muslim men.
But instead the police forced Anna's parents to consign the girl to the "legal husband" and tormenter, or they may be subject to criminal proceedings.
Anna's parents now have to live in hiding,to rightfully protect their daughter from a living hell.
There are over 1000 similar cases reported every year with Christian and Hindu children who suffer terrible violence and abuse by Pakistani Muslims. These perverted Muslims see them as objects or goods and treat them like animals. Not one of these perverts has been prosecuted by the law.
After the American and British invasion of Afghanistan, opium growing has flourished to the extent that it grows 95% of the world's opium. Much of it is shipped through Pakistan and Iran. This creates chaos and out of control crime. Heroine addiction is fast becoming a major problem here.
The American and British military gladly encourage the opium trade. The Taliban buy arms with the opium and shoot and kill NATO troops with bullets bought with the drug money; the very opium the common troops are unwittingly protecting.
I respect and honor the people who died for Pakistan fighting corruption. Do you westerners have this kind of courage to stop the oil and opium wars? Do you have the courage to take on the CIA, Blackwater, Mossad or the MI-6?
Will you stand up and stop the murder of millions of innocent people? Your press lies to you, literally millions have died in your unjust Hitler-like invasions. These wars are justified by lies of weapons of mass destruction and blames the true origins of the 9/11 attack on the wrong people.
Your leaders are worse than president Asif Ali Zardary. Nothing is done to punish your leaders because they are all part of the same Satanic psychopaths that we suffer from.
At least we are sending our former Prime Minister Nawaz Sharif to life in prison and the possibly to be hung for his crimes. But you have done nothing to prosecute your own leaders, such as the Bushes, Kissinger, Cheney, Obama, Thatcher or Blair.
If you sit by apathetically watching the destruction that came upon us in the Middle East, these sins will be upon your heads and upon your children's heads. These unjust wars you support will be playing out in your own streets just as it did in Libya.
------------------------------------------------
Note: The author, a young Christian man was born and raised in Pakistan. He wishes to remain anonymous for the safety of his family and newly wed wife.