Insider Exposes South African Central Bank
November 25, 2014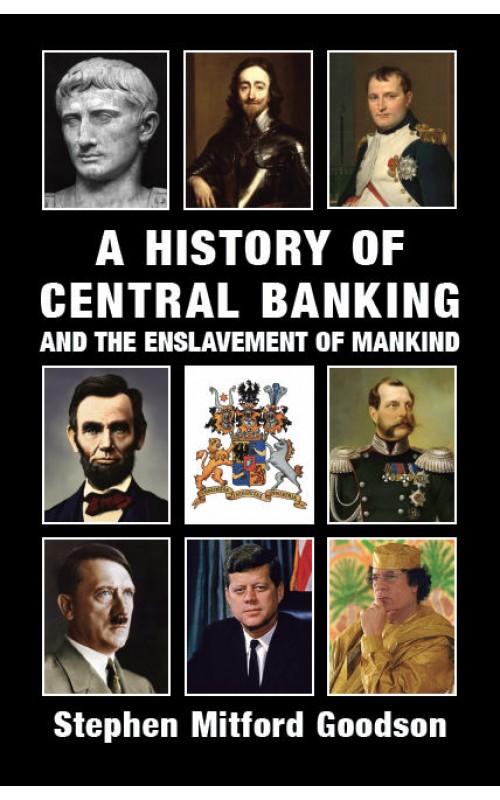 Stephen Goodson has written a hair raising account
of the South African equivalent of the Federal Reserve.
As a former Director, he is in a position to know.




by the
New Economic Rights Alliance
(of South Africa)
(henrymakow.com)
A whistle-blower has revealed the truth about the South African Reserve Bank.
"Inside the South African Reserve Bank - It's Origins and Secrets Exposed"
is a fascinating and must-read book.
Most people have no idea what the purpose of the Reserve Bank is. It's high time they learned the truth. Author, Stephen Goodson, paints the South African Reserve Bank as an insidious institution full of back-handing, back-stabbing, corrupt, power hungry psychopaths... (pretty much like any other bank!)
Goodson is a former Director of the Reserve Bank and, according to his book:
It is absolutely clear that the Board of the Reserve Bank has absolutely no idea how the money creation process works. In other words, they do not actually understand that, when a commercial bank creates a loan or an overdraft, the customer spends the money into existence. In other words, a bank loan creates brand new money.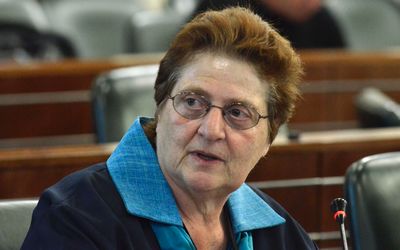 The scandal of Gill Marcus, a Jew, left, the former Governor of the SARB, is both alarming and disturbing. After selling sandwiches in London, she studied economics and went to work for our Reserve Bank. She was so awful, that she was instructed to clear her desk in 2004 and leave the building. She was fired. However after secretly following [her predecessor] Tito Mboweni around, she created a black-list of all his ill-deeds. Later, she reappeared as Governor of SARB under mysterious circumstances.
Gill Marcus immediately removed the requirement that all Reserve Bank meetings must be transcribed and recorded. She shredded documents and changed the voting rights of shareholders. Then she introduced changes that would phase out the "old guard" and amended the rules to allow only herself to appoint new candidates.
Finally, she secretly allowed a Swedish company to print South Africa's banknotes, while the local printing facility stood idle. This was a disaster. R800,000m worth of bank notes were put into circulation that did not even come close to meeting the required printing standards.
Shortly afterwards, R360million worth of banknotes had to be destroyed because they were "accidentally" printed with the same serial numbers. Since then, for secrecy reasons, the same company is still responsible for producing many of South Africa's banknotes.
Kruger Rands have been found to be 5% short of the stated gold content. SilverDoctors.com stated that this was likely to be a skimming operation by the South African Reserve Bank. If you purchased Kruger Rands after 2010, we suggest that you have them tested.
300 tonnes of gold valued at over R300 billion was stolen from the SARB, with the help of insiders as part of a bigger looting exercise valued at a massive R2.25 trillion.
A third of our foreign currency reserves are looked after by a single bank: JP Morgan, a bank who's reputation and skulduggery goes sickeningly deep.
90% of our gold reserves are kept at the Bank of England. When Germany asked the Federal Reserve bank of the US for their gold back, they only returned a very small portion of what was agreed - and it turned out that the gold returned was fake.
The story seems almost too incredible to be true, could it be the same with our gold reserves? This is just another day at the office for the banksters. The question is... where is South Africa's gold now? Not in the hands of the people that mine it, that's for sure.
[Author] Stephen Goodson left SARB under claims that he was a "holocaust denier" with bad press associated with him. He dedicates an entire chapter to this topic in his book, which does not interest NewERA at all. We are far more interested in the research and insight behind the banking system. It is greatly sad that such a topic is brought up, as we feel it is completely unnecessary and inconsequential to the real message behind the book.
According to Goodson, the solution to this problem, at least in part, is the creation of a People's Bank. This bank does not allow money to be created out of nothing by a bank then loaned to the government at interest. Instead, the government issues its own currency based on our ability and requirements to develop.
This kind of bank is not new. It has been created several times in the past with incredible success. However, each time such a bank was created, either the bank was mysteriously closed down, or its country was bombed. When a conventional Central Banking system is put in place, economic hell soon follows.
Until the people of South Africa understand the history and lies behind the banking system, and have the humility to admit that we have been misinformed by a skewed economic education system, then we will never see economic freedom.
Order the book on Amazon, but don't expect delivery from our current postal system. Rather contact the author directly here:
[email protected]
[The book is also available online from alibris]
----
Thanks to "AB" for sending this!
Related-
Marcus Stepped Down Nov. 14 at end of her Five Year Term
White Luciferians Still Run South Africa
Also by Stephen Goodson:
A History of Central Banking and the Enslavement of Mankind
First Comment from JG:
The Bank of England ( House of Rothschild) is the world's Central Bank of all Reserve Banks around the globe that are actively involved in international trade.This is why the British Pound will always have more value than any other currency on the commercial world markets regardless of the state of England's economy.The Bank of England is a sovereign entity that is not under the British Parliament's jurisdiction or control.
In plain English, " YOU CAN'T BEAT THESE PEOPLE"!
There are too many nations today like India, China, and Russia that think the Bank of England and it's Reserve Bank conglomerates don't believe in gold. This is a laughable assumption because they own majority of the world's gold. Who do you think owns the gold and diamond mines in South Africa? And where, and by whom, is the price of gold set? Go ahead and stock up on silver and gold as a hedge.They can crash the price of metals also as you are witnessing right now.
If you think you're going to escape their stranglehold on your currency by going with an independent nationalized currency good luck with that also. What happens when the foreign Reserve Banks banks don't recognize your currency as a viable exchange for goods? A nationalized "debt free" currency today can only be successful if your nation is not dependent on foreign imports to survive. And, in the high tech global economy that would almost be impossible.
---
You can find this article permanently at
http://henrymakow.com/2014/11/insider-exposes-south-african-central-bank.html
Henry Makow received his Ph.D. in English Literature from the University of Toronto in 1982. He welcomes your comments at