Gay Marriage is Neither Same Nor Equal
May 30, 2015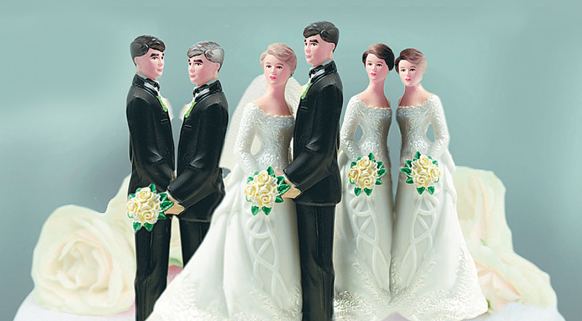 What is not the same cannot be equal.
Same-Sex "Marriage" is Kabbalist
Black Magic:
Using the same word and concept to describe both the heterosexual and the homosexual 'union' is an attempt to redefine reality by redefining our language and laws.
The fundamental lie of the Kabbalah is that reality is a function of thought. On the contrary, while Kabbalistic thinking, what C.H. Douglas often referred to as 'black magic', can manipulate our perception of reality, it cannot alter reality itself. 1
by Tom Bothwell
(henrymakow.com)
Legalizing same-sex 'marriage' necessarily implies (if words are to retain any meaning at all) that same-sex 'marriage' is fundamentally equal, i.e., is essentially the same thing, as what we have hitherto regarded as marriage. But is this actually the case? Are they really the same?
The heterosexual union and the homosexual 'union' are not the same, or even equivalent. When you bring a man and a woman together, there are new states of affairs that come into being. In the first place, a man and a woman can engage in a genital union based on their biological complementarity. They can also enjoy a deeper personal union on the basis of that special psychological, affective, and spiritual complementarity which the masculine/feminine polarity renders possible.
Finally, the heterosexual union is marked by procreative potential, i.e., the possibility that their physical union could result in new life.
By contrast, every single one of these features, which are rightly regarded as
beneficial
to the well-being of the spouses, the stability of society, and the future of civilization are concerned, is entirely absent from the homosexual relationship. The heterosexual union is exclusively unique.
If I may draw a crude analogy, when you bring a key and its corresponding lock together, something new comes into existence: the power to lock and unlock doors. Two keys or two locks are entirely useless for such a purpose. Clearly, the relation between the lock and key is qualitatively different from the relation between two keys or two locks. In no way can they be regarded as equal.
Using the same word and concept to describe both the heterosexual and the homosexual 'union' is an attempt to redefine reality by redefining our language and laws.
It would be like declaring by force of law that the shape hitherto known as a triangle is to be called a square and is to be treated as if it were a square. Changing the definition of a triangle or calling triangles squares will not succeed.
Whereas the interior angles of a square must add up to 360, the interior angles of a triangle must be 180 degrees. These states of affairs are independent of anyone's perception or preference and they can be known with apodictic certainty.
However, the fact that the legalization of same-sex 'marriage' is now argued for in the name of 'equality' also lends itself to a type of reductio ad absurdum of the whole position. Are bisexuals also entitled to "equality"?
Using the same logic, bisexuals should be allowed to be in a legal three-person marriage with one same-sex spouse and one opposite sex spouse. You can't 'discriminate' against bisexuals, now can you? Hmmm ... and what if one of those spouses is also bisexual ... and so on? Well, then we might have to have a long chain of married couples, that, if it were extended long enough, could possibly encompass a very large group of people indeed ... "One Love".
It's ridiculous, but that's what you get when you insist on redefining marriage to suit an occult (satanic Jewish) agenda, instead of insisting that our words and concepts correspond to nature.
Indeed, I fear that the occult purpose behind the legalization of same-sex 'marriage' is to so water-down the meaning of marriage so that the destruction of marriage as an institution (and with it the destruction of the natural family) will inevitably follow.
Has anyone read Brave New World recently? Our rulers (the international central bankers) want to ensure via various social engineering programmes (of which the push for same-sex 'marriage' is but one) that nothing should ever come between the atomized individual and the all-powerful State. Unfortunately, there are far too many dupes amongst the common people who are doing their half-baked best to assist the architects in their grand project.
------
1. Douglas often recognized that the indiscriminate promotion of equality as a social objective was used as a tool by the globalist powers to distract, placate, and condition the masses so that tyranny could intensify unopposed. Cf. C.H. Douglas, "Whose Service is Perfect Freedom" (Bullsbrook, Western Australia: 1983), 40 : "One of the delusions skilfully fostered by those Dark Forces which assail us, then, is the idea of human equality under a non-immanent Sovereignty. It is quite probable that this conception, held, where it is held, in defiance of everyday experience, observation, and history, arises from the inability to grasp the meaning of words, an inability which is coming under skilled observation in many quarters. It is perhaps unnecessary to pursue the disproof of the first aspect of it further than to suggest that, if no two persons in the world possess one attribute, a finger-print, alike, as experts contend, then it is hardly probable that even two persons could be found to possess every attribute alike."
---
You can find this article permanently at
http://henrymakow.com/2015/05/same-sex-marriage-is-not-same.html
Henry Makow received his Ph.D. in English Literature from the University of Toronto in 1982. He welcomes your comments at