Israeli-Based Online Casinos are a Scam
December 3, 2013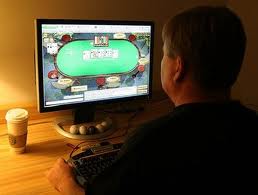 Many online casino companies are based in Israel
and prey on customers worldwide.

Our correspondent, "Saul" worked for one.

"For non-Jews living within America, Canada and Western Europe, it's important to realize, whatever strategic military purpose Israel may serve, do not be fooled -- the Israeli government and most Israelis in general could not care less about you, think you are suckers and fools, and shamelessly rip you off whether you come here as a tourist or conduct business on-line."

Part One: Israeli Business: Dishonesty is Expected

by Saul
(henrymakow.com)

Following my employ at the wonderfully ethical pharmaceutical company, I worked for two online casinos, both located in downtown Tel Aviv. The pay in the casinos was significantly more than at the "pharmaceutical" company, and you can imagine why. Without any product to deliver, it was a much more profitable business.
Like the pharmaceutical company, we hid our location from our customers (the players), and didn't do business within Israel itself. Most of our victims were from the USA and Canada, though we had "customers" from all over the world: France, England, Germany, you name it. A fair share of players were from the Arab world too. You can imagine how happy they would be to know they were being blatantly ripped off by an Israeli company. Both of these companies claimed to be located in the Caribbean.
The business was a scam. An elaborate money-laundering scam which I have little doubt the government of Israel is well aware. Both businesses were located in prominent buildings within Tel Aviv. There are hundreds of these types of businesses in this country.
The terms and conditions of the casinos (we operated over 20 from our office) made it impossible for players to actually win. Only the smallest winners could ever come out ahead, and only if they got extremely lucky and won right away, having played only a little.

Even then, it was difficult to receive the winnings and they would all cry scam and swear never to play again. Little did they realize, hundreds upon hundreds of such casinos are operated in exactly the same manner by Israeli companies. The business was hugely profitable. Beyond a sure thing. And illegal. (See "Online gambling, a pastime whose time has come.").
MONEY LAUNDERING

My employers primarily profited from on-line slots games. Blackjack came next, followed by roulette. Roulette players NEVER won. The times players did win, they were accused of breaking the terms and conditions by using a "system or strategy that defeats the laws of randomness." In other words, if they were skilled players, we wouldn't pay.
If they lost, no problem. They could play. Very few players ever won playing blackjack either. The odds were with the house, typical of any casino,but more so with an on-line casino where the odds are easily stacked with a click of a button. And of course slots games are fixed so the house always wins. In our case, this inherent profitability was hugely increased by the fact that we only paid out in small increments and intentionally took our time.
The delay in payouts was partially due to the money-laundering nature of the business. We were located in Israel. Funds had to go through a bank in Cyprus, and then to the Caribbean, and finally to the destination country. It was likely even more convoluted than that -- I did not work in our finance department. Bank problems came up all the time, as one would expect in an endeavor to hide the origin of money.
Funds coming in were just as shady. The credit card processors were surely in on the take. Transactions were always disguised as being for some other purchase -- never gaming. These included things such as medication, gift cards, and one that gave us all a good laugh, dating and escort services. Good that the wife doesn't know hubby is gambling away their life savings on-line, but not so good when she thinks he is frequenting a dating and escort service.
The new immigrants who work for these companies know full well their dishonest nature. There's no way not to. Alas, the money is too good and the cost of living too high for many people to resist the temptation. If you read my article about "shitat matzliach" you will see how this is consistent with the country's mind-set.
Jews move to Israel under the false premise of Zionism - thinking of a spiritual move that will being them closer to God - but what do they get? They end up selling their souls. This is Satanism at its ugliest, and something I daresay people should know about Israel, most especially anyone thinking of moving here under the "Jewish" right of return.
-------

Related-

Israel Among Most Corrupt Developed States
- Study